Restoration is Our Passion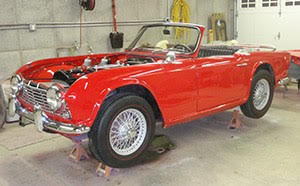 While our staple is collision repair, our passion is surely restoration. The owner has been restoring classic cars for over 40 years specializing in classic sports cars and muscle cars. He has extensive experience in coach-building, custom painting, engine rebuilding, interior fabrication, and electrical repair. All members of the shop have the same passion and related expertise. There is no shop better qualified to perform any degree of restoration.

As with collision repair, we provide all degrees of restoration services. We can touch up that old paint, fabricate and weld in repair panels, perform a complete repaint, or tear her completely down and implement a frame-off or rotisserie restoration. Frequently the wide variation in options can be daunting to a customer. Fortunately, we at It's Alive Automotive pride ourselves in assisting the customer in defining the optimal restoration process saving you time and money.
We'll Design an Optimal Process Tailored to Your Situation
The It's Alive Automotive Team will design a restoration process that ensures an efficient and effective restoration considering all of the customer's desires and constraints. We assess the car's condition/vintage/pedigree, the customer's desired use of the car, the budget, and the time frame. Using these inputs we will design a restoration process that ensures minimal waste and maximum efficiency. All too often you hear of cars that have been in a restoration shop for years with little to no progress. That will not happen at It's Alive Automotive . Our efficient processes ensure the car is returned back to the customer as quickly as possible.
Be Part of the Process
We encourage customers to participate in the restoration (following our recommended overall-restoration-process). Customers can be responsible for as much or as little as they want and their participation not only saves them money it also increases their sense of pride in the final product. There is nothing more gratifying than stating, "Yea, I restored this car". As we develop the overall process we will jointly agree on the work split between the work to be performed by the customer or by It's Alive Automotive. Usually our scope of work includes at least the rust repair, stripping, metal work, bodywork, and paint. Often the customer will be involved in the tear down and reassembly. We also use local services to perform specialty work such as interior restorations and will gladly transport between shops using our rollback trailer at the appropriate time in the process. Regardless of the work split, the end result is a product that exceeds customer expectations in both quality and bang-for-the-buck. Don't let that project sit in the back of the garage any longer. Give us a call and we will help you bring her back to life!